**

Updated September 1, 2021

**
Store closing!!
Dear friends,
Yes, after 29 years, we are sad to announce this, but SEW for IT! is closing.

It has been a long run, and this has nothing to do with covid, but the time has come. We are retiring now after our second career.


Retirement day is coming closer and it is time for us to start clearing our shelves at bargain prices. Our fashion fabric table has hundreds of meters of fabric suitable for garment construction. At these prices, you can make a dress, pants or a jacket for just $8.95! Read on to see what else is on sale. We have to clear the store to the walls by September 30! Please drop in for a look around! Happy sewing!

This will be in person shopping only.


Customers must keep a distance of 2 meters away from others. Customers must wear a mask that properly covers both the nose and mouth and must sanitize their hands at the door.

Also note that due to the circumstances, we are no longer selling machines, taking machines in for servicing, or offering classes.

For information or assistance, please call us at 613-820-2201. If we are too busy, we may have to call you back.

Betty & Ed.
Quilting Cottons
115 cm.(45") wide
includes all batiks, flannel, seasonal prints, tone on tone blenders,
children's prints and conversation prints
regular price is $15.95 to $19.95 per meter
and
Wideback Cottons
270 cm. (106") wide
regular price is $28.95 to $32.95 per meter
now on sale for
40% off regular price
Minimum cut for sale pricing is 0.5 meters
____________________________

T-shirt & Sweatshirt Knits
Cotton or poly-cotton blend
150 cm wide
Matching rib with 4% lycra available
regular price up to $18.95 per meter
now $9.95 per meter
____________________

Fashion Fabrics
over 250 bolts of fabric in 150 cm (60") and 115 cm (45") widths
including polyester dress weights, poly-rayons, polyester silkies,
faux suedes, suitings and more

Regular price is up to $19.95 per meter
now on sale
Buy 1 m. at $8.95

and get an

additional 2 m. from the same bolt FREE
(or the rest of the bolt if under 2 meters)
________________________________

All Threads
including
Mettler, Gutermann, Sulky, Robison Anton & Serger threads
Buy one spool at regular price
and
get a second spool of the same brand
(of the same or lesser value) for half price
____________________________


Special pricing on
BabyLock and Husqvarna Viking:
Accessory feet for sewing machines & sergers
Trolley bags
Extension tables
( for example, Extension table for the Husqvarna Viking model 100Q is half price!)
and many other items but space is too limited to list all of them here.
____________________________________



Some of our fixtures and furniture are available for purchase.
Please speak to Betty if you are interested.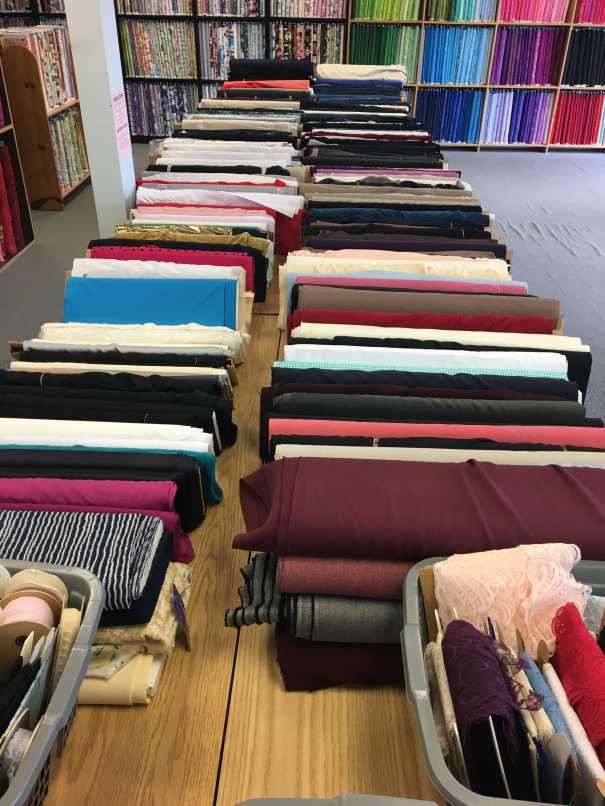 SEW for IT! is a family-owned and operated business, selling fabric, and related products.

For
Baby Lock, and
HUSQVARNA VIKING® machines, please consult the appropriate web site for your nearest store.
We are conveniently located (in Bells Corners, Ottawa's west end), at the south west corner of Moodie Drive and Robertson Road. Free parking is available in the lot at the front of the store, additional parking at rear.
Moodie Drive exit south off the Queensway (Highway 417), cross Robertson Road and turn right into the parking lot, next to Circle K. Note that resurfacing work is in progress on Moodie drive, south of Robertson.
OC Transpo, the regular 88 bus stops about 100 metres away on Robertson Road at Moodie Drive. During the evening "rush" it stops on Moodie Drive, right in front of our store, or across the road, depending on direction. (We are right beside Circle K, in the strip mall at the opposite end from CIBC).
From the south, take Highway 416 north, exit at Hunt Club West - follow Hunt Club heading west to extreme west end, keep right (to head north) at the traffic circle. This is Old Richmond Road but changes into Moodie Drive at the 4 lane section.

SEW for IT! is the first store on the left in Bells Corners, turn left into the parking lot. (At McDonalds parking sign).

Parking is free, and there is additional parking at the rear of the building.